Battery Recycling
As part of our ongoing pledge to become a more sustainable setting, we are pleased to announce that we are now part of a battery recycling scheme. Families are invited to drop off any used household batteries with a member of staff at our main church doors, who will place the old batteries into the recycling box. Once our box is full it will be collected, emptied and replaced with a new box so that we can continue the recycling process.
Barnados Big Toddle - Father's Day Picnic
On Sunday 19th June at 11am we are going to take part in The Big Toddle for Barnado's. This year is a safari theme so we are planning to meet at Pumpkin Pie and walk/toddle down the hill and along the Coquet River path.  We will stop for a roarsome picnic along the river before returning to nursery, so we're hoping for a lovely sunny day!
Our fundraising page is here – Pumpkin Pie is fundraising for Barnardo's (justgiving.com) – for anyone who would like to donate. If you would like to join in the toddle, please contact [email protected]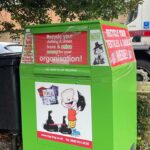 Rag Bag Recycling
We are delighted to let you know that we now have a clothes bank in the car park for you to use whenever you wish to recycle good quality clothing and matching shoes. Each time the bank is emptied, the contents will be sorted and weighed and we will receive a payment in return. We will let you know how we are putting this money back into the nursery once we have received our first few payments, so please keep filling it up!
Please follow the guidance on the bin about what can and cannot be recycled.
Maths Champions
We are so pleased to have been accepted onto the NDNA Maths Champions Programme. Maths Champions aims to improve the maths skills of children in private, voluntary and independent (PVI) early years settings. It is a one-year programme developed and delivered by the National Day Nurseries Association (NDNA) and supports children and staff by embedding maths into play and activities. Led by a designated member of staff in our setting, its aim is to build confidence in maths among children and practitioners.
Millie's Mark Award - Inspiring Excellence in Paediatric First Aid
We are thrilled to announce that we have achieved our Millie's Mark accreditation from the National Day Nurseries Association.  This is an award given for excellence in paediatric first aid and follows a lengthy accreditation process, including a full risk assessment of our setting, our processes, our knowledge and ensuring every member of the team is fully qualified in Paediatric First Aid.  Whilst we hope of course that we would neve have to use these skills, this award provides reassurance that our families know how seriously we take their child's safety whilst in our care. 
Register Your Little One With Us!